Questions we are trying to answer
What is the best weekly schedule for optimal performance on competition day?
What should the sessions look like to best prepare the team or athlete for the weekend?
These are questions technical and fitness coaches ponder over and discuss at great length.
The ordering of training days, and the training volume are key pieces of this puzzle.
However, the correct intensity of training is arguably where teams might get the advantage regarding performance.
Determinants of intensity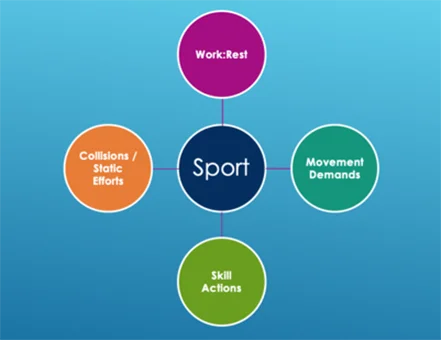 One of the biggest and simplest factors for setting training intensity is the amount of Work time compared to Rest time ie. Work:Rest. For example;
Is the drill focusing on speed of execution and/or learning of a skill or set play, perhaps 20-30s long with enough rest time to discuss how to do it better and ensure quality of the next effort. i.e.

Low Work:Rest

;
OR
Is the drill involving both short and long plays with short rest to mimic the most demanding periods of a game? i.e. High Work:Rest;
When planning a session as or with a coach, the simple concept of Work:Rest is understood by all, and allows an easy foundation and language for planning drills and sessions.
Knowing the demands of the sport
Knowing and having a clear picture of the demands of your sport is paramount for technical, physical, and rehab coaches, AND for that picture and language to be the same for everyone in that management team. It is the physical departments job to ensure there is this solid foundation of this knowledge.

If you looked at the difference between international and club rugby union around 2014, the running demands recorded at international level were around 10-15% higher. However, this was of no surprise when the international game had 5-6mins more Work (ie. Ball In Play). If you have 6mins more time to run around, of course your running meters will be higher. Not only this but the Rest (Ball Out of Play) was also less, making for a more physically demanding game (International rugby Work:Rest 1:1.4 vs Club rugby 1:2).
"Japan had more than 40 minutes' ball-in-play time against Russia, and achieved that again against Ireland. We are used to seeing Tier 2 nations tire during the second half. That fatigue is exacerbated by a high ball-in-play time. Lots of ball-in-play means lots of tackles and carries and other energy-sapping tasks."
Source – Rugby World Cup
Website – https://www.rugbyworldcup.com/news/489229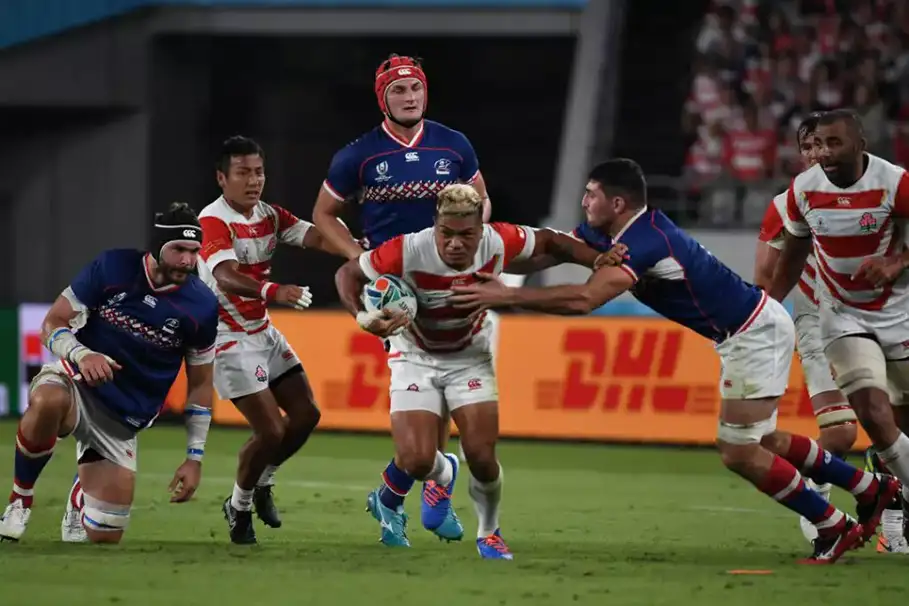 The physically toughest plays for me would be a long sequence involving a kick chase, a turnover, and then suddenly defend for a long period of time, turnover and ready to attack again. In conclusion, long sequences of play where changes of pace are required.
Start training your teams at the correct intensity
Sign up for your Work:Rest trial.
Periods of high Work:Rest
The last 20 minutes of the game is often talked about as a time where the 'fitter' teams will come out on top.
However, what if there is already a 30-point margin by this point?
What if, due to stoppages in play or mistakes there is very little Ball In Play in the last 20 minutes so the 'less fit' team isn't really tested?
Times in a game where a rugby team's physical capacity is definitely tested is when there are periods of high Work:Rest.
A period of the 2018 test between New Zealand vs Ireland is a great example of this (and this was actually the first 15 minutess of the game).
During these periods, its highly likely both teams were tested physically as well as technically, tactically and mentally.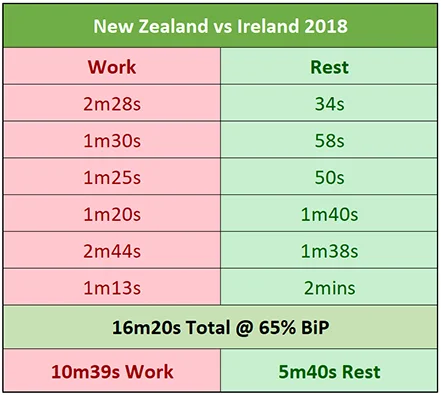 How and why do we use this knowledge to base our training?
It makes sense to marry up your rugby priorities for each day with your physical objectives. For example, a learning or clarity session suits more time to correct and talk, this ties in with a lower intensity day ie. Low Work:Rest.
On high intensity days, often a team is challenged to execute tactically and technically under fatigue from high Work:Rest. This gives two outcomes;
The team is prepared from a rugby perspective for when these

high Work:Rest

situations happen in a game.
The team gets a conditioning/fitness stimulus.
During a week, when recovering from a game, planning, having meetings, working on individual skills or physical needs, it is important to be efficient and specific with your training sessions where physical, technical, tactical and mental facets are worked on together. A well planned and executed high intensity session might mean no additional fitness work is required for the majority of the team, they have achieved this specifically, by training rugby.
You need to replicate the game, that is important and then the intensity will come from specific training. The specificity of the training will give you the intensity you need.
Source: goplay-sports.com
An example of the requirement to prepare for longer plays is when New Zealand defended for 18 phases (3m32s) in the 72nd minute of the RWC 2011. Some teams structure high intensity sessions with 3, 4 or 5 minute blocks with rest in between to ensure high Work:Rest to mimic the worst case scenarios (WCS) of a game. This typically works to good effect.
An alternative is to have a longer period of play, for example between 10 and 15mins and ensure that the Ball In Play % or Work:Rest is as high or higher than the WCS we have seen in matches, such as the first 16mins of New Zealand vs Ireland.
A training example would be a 15min period, with a Work:Rest of 65+%, superseding the WCS, stressing the players physically and technically with natural starts and ends to plays dependent on the coaches needs.
Whether training your team high or low intensity, fast or slow, short blocks or longer periods, we are attempting to achieve a certain Work:Rest of the session.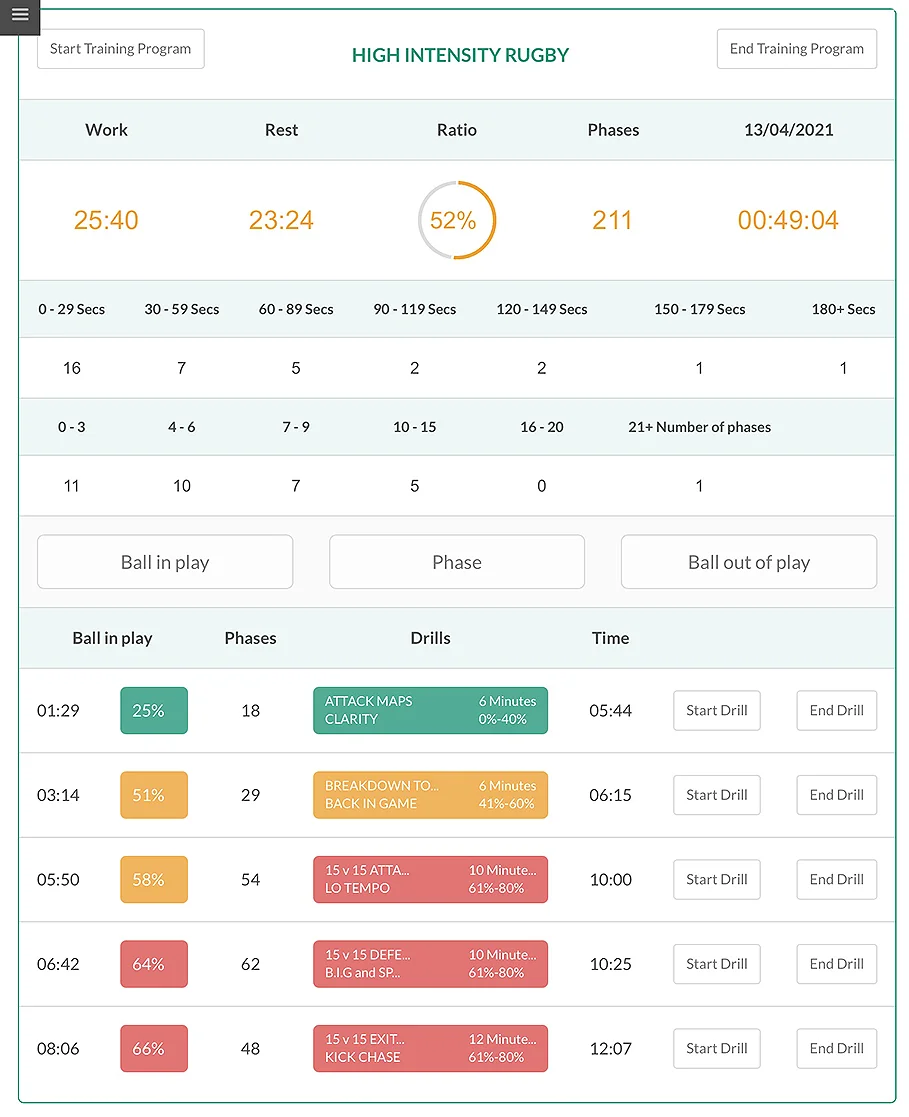 Example high intensity session using the monitored Work:Rest Software
This can be easily achieved by planning and monitoring your session in real-time with the Work:Rest software, giving you exact information on the Work:Rest of your session and individual drills.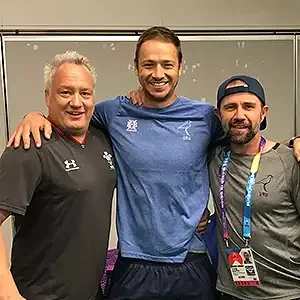 Ben Pollard
Head of Strength and Conditioning at Stade Français Rugby
Ben is Head of Strength and Conditioning at Stade Français Rugby.
Previously he worked at Saracens for 8 seasons, was lead Sports Scientist for England rugby, and has consulted for Uruguay, Spain Rugby, and British Tennis.
Start training your teams at the correct intensity
Sign up for your Work:Rest trial.