Have you heard about the 4 principles of Performance Analysis?
CAPTURE. CODE. ANALYSE. FEEDBACK.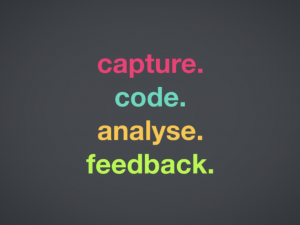 Performance Analysis is still a new concept to most.
Although everyone has heard about "it" and most people know that sporting teams "are doing it", there still seems to be quite a lot of uncertainty about how exactly you implement "it" into your coaching structure.
I am going to be sharing a few insights into the four main principles of performance analysis:
CAPTURE. CODE. ANALYSE. FEEDBACK.
These tips and tricks will help you understand the basic "ins and outs" of 
performance analysis
. They will give you the necessary tools to help your coaches and teams get the most out of their 
video footage
, data and reports.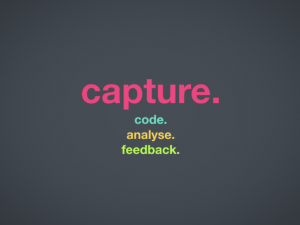 When filming a game that you are planning to analyse, the quality of the footage is absolutely critical.
Whether you are going to physically code/tag the match or if you're purely going to watch the video, the quality of the filming will have an impact on the accuracy of your tagging and how much you will be able to see or not. (It will also eliminate the chances of the viewer suffering from motion sickness)
Some teams get their bench players to film, others ask a parent to film the game or there may be a youngster who is desperate to get involved in sport but may not necessarily be able to make the team.
These candidates are the best as they take their role very seriously and are dedicated to doing a good job.
Have a look at our "Best Practices" list which we have put together to help you get the best out of filming your match.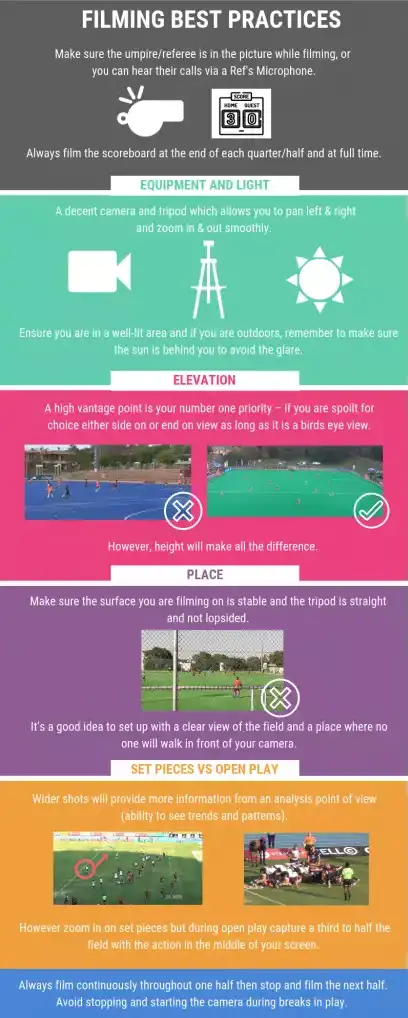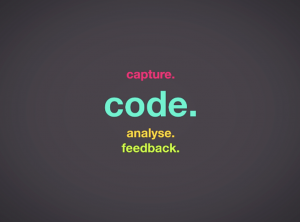 Improve your team's performance
Get insights, get winning
Sign up now and get started
Have you ever heard the phrase "Coding a game" or "Tagging a match"?
Both these terms mean the exact same thing…
Coding a game, or tagging a match, involves the process of building a timeline of events that happen in a sporting match. The events recorded depend on the sport being played and are usually determined by the coach, based on what information they want to focus on from a coaching perspective.
Events coded/tagged in a rugby match would be lineouts, scrums, kicks, tries, ball carries, tackles, rucks and penalties etc. There are also labels/tags where you can add detail to an event such as "Home Lineout Won" or "Opp Scrum Lost".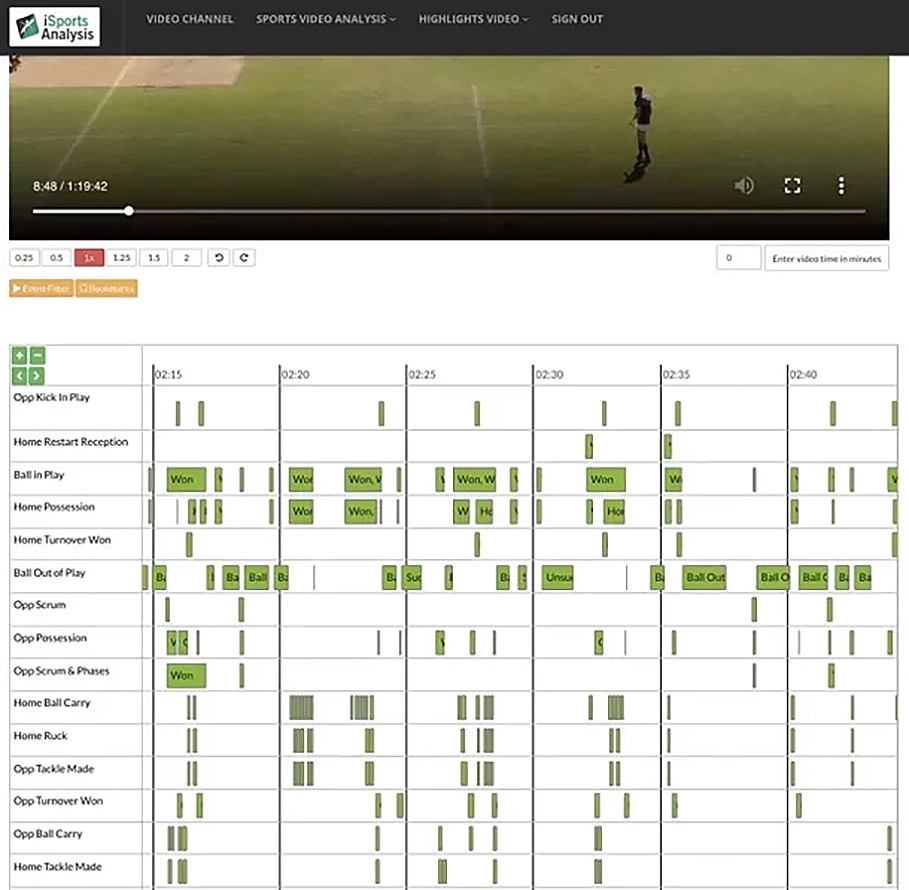 Code windows, which are made up of action buttons (or events), are used to code/tag a match. As you press play on your video and your team makes a tackle, you would click the "Home Tackle Made" action button and an event/instance would simultaneously be recorded on the timeline.
This would be done for both the "Home" and "Opposition" teams.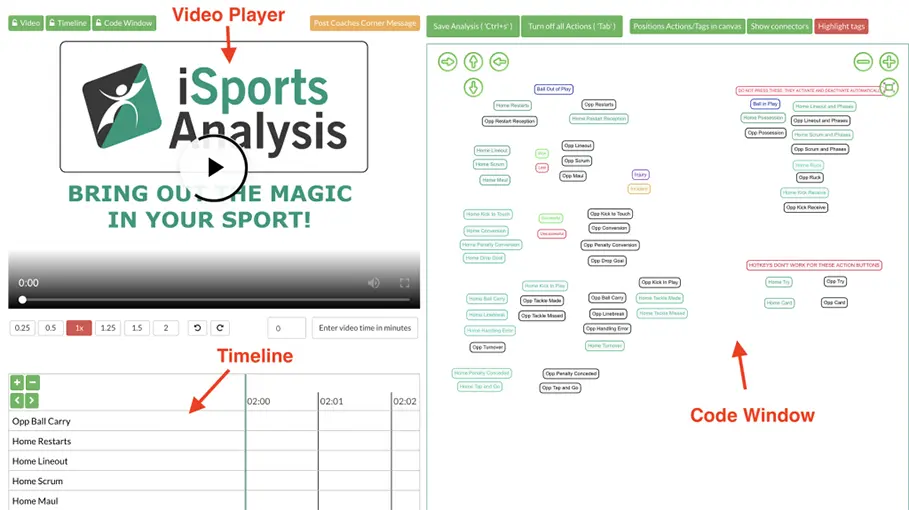 Once the full game has been coded/tagged, the coach and the players can conveniently skip through their chosen events/instances on the timeline making it quicker to review all the chosen events back-to-back. This practise helps to pick up trends, strengths and weaknesses.
Filtering relevant events in your match
There is also a way to filter each event based on the description of the outcome of the event. You can view all "Home Lineouts Lost" for example.
The timeline and video player enables them to playback the clips at varying speeds. This helps to make performance analysis a great tool to understand, learn, optimise and improve team and individual player skills.
iSportsAnalysis and The Analyst have worked closely with coaches and have created sport-specific code windows for Rugby, Hockey, Netball and Soccer.
This means as soon as you have filmed and uploaded your game to the iSportsAnalysis platform, you can select the relevant code window and start coding/tagging your match immediately.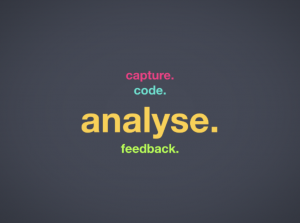 Improve your team's performance
Get insights, get winning
Sign up now and get started
The fun bit – analysis and reports
Analysis of the game is the best part of Performance Analysis!
It's where all the exciting insights come from.
On the iSportsAnalysis platform, we have created match reports/stats pages that read off the timeline of each game. The report adds up the number of instances/events that have been coded/tagged on each row.
For example, the report will tell you how many lineouts your team has won or lost during the game. How many times your team has lost possession of the ball. Or how many tackles the opposition has made in comparison to your team.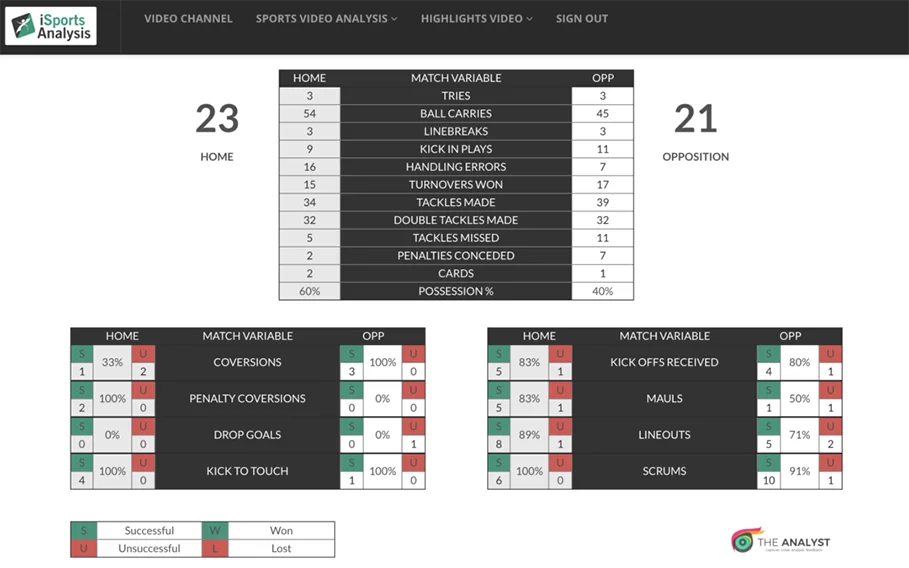 The beauty about these reports is that they are interactive.
You are able to click on any statistic, e.g: "Home Tackles Missed" and a video-player window will pop-up with all the relevant clips (in this case there were 5 missed tackles).
This makes it very easy to review each event and gives you an understanding of how and why the tackle was missed.
And you will be able to identify what your team needs to do in future to minimise the number of missed tackles.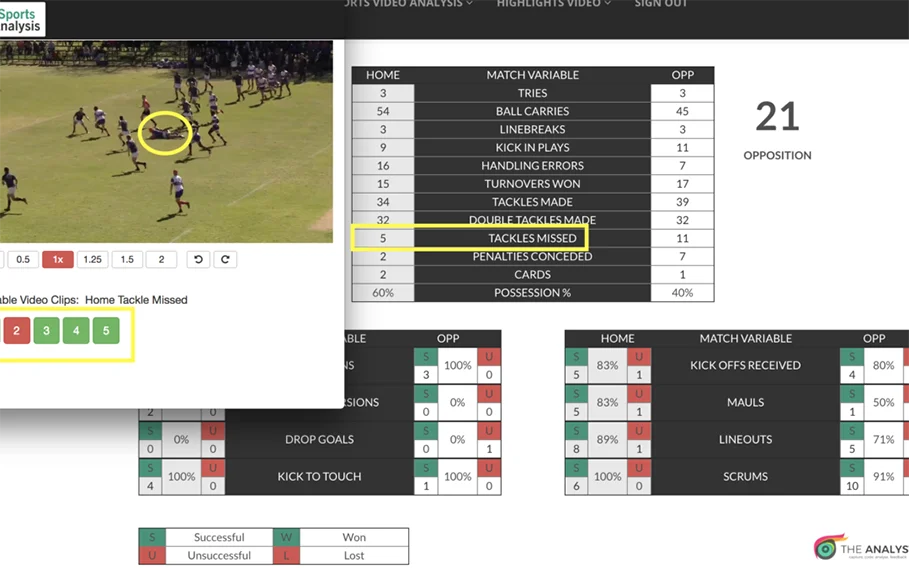 These match reports are linked to each code window, so whether you code/tag your own game or The Analyst does it for you, you will receive a comprehensive and interactive match report.
Let us know if you would like to have a look at the match reports/stats pages of the other sporting codes.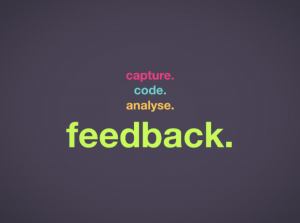 How do you usually give feedback to your players after you've played a match?
iSportsAnalysis has created a COACHES CORNER where you are able to easily filter through events on the timeline and write comments privately or publicly to the whole team on a live-feed.
Your players will be able to view the clips and your comments simultaneously and even respond if they wish to.
The feedback we've received from coaches and players using this feature has been very positive.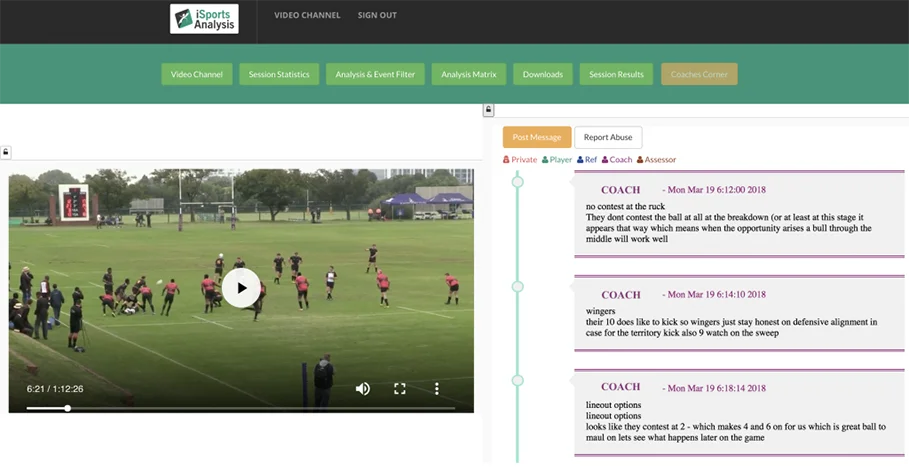 Feedback during the coaching process
Feedback during the coaching process is essential as it will improve your athlete's technical and tactical knowledge. It can assist them in making better decisions as well as boost their confidence.
Many of us are visual learners so having your comments alongside the clip you're referring to, will speed up the learning process.
If you're interested in trying out the iSportsAnalysis platform, sign up for a 30-day free trial.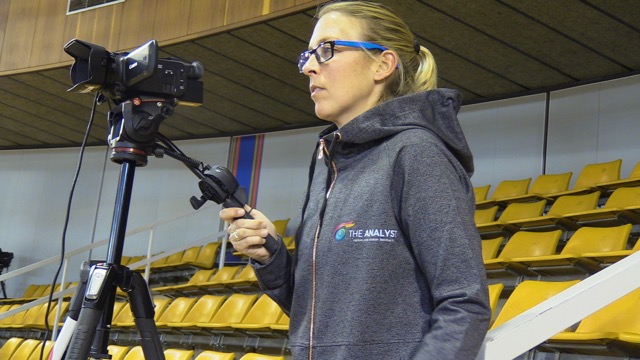 Cristy Mullender
Sports Performance Analyst and Founder of The Analyst (Pty) Ltd
Cristy, an experienced Sports Performance Analyst, is known for working closely with sports men and women, teams and coaches, providing them with a competitive edge.
Cristy found her way into this field with her diverse background in Computer Science Engineering, Consumer Behaviour Research, Sports Science, love for travel and her passion to make a difference in peoples' lives.
After finishing her internship at the University of Johannesburg (UJ), she decided to embark on her masters specialising in Sports Performance Analysis. Later on, she took over the head analyst position at UJ and was approached to work alongside the legendary coach, Norma Plummer, in the South African SPAR Protes netball team, who have recently participated in the Commonwealth Games in Australia.
In January 2017, Cristy decided to go her own way and founded The Analyst, a company based in Johannesburg, South Africa who specialise in pre-, post- and in-tournament competitive intelligence. In addition to working with the national netball squad, Cristy and her professional team of analysts provide video analysis to both local and international teams in a number of sporting codes – rugby union, rugby sevens, hockey, soccer, netball, cricket and basketball.
Her clients include St Johns College (Johannesburg), St Stithians College (Johannesburg), Southern Gauteng Hockey team (Johannesburg), St Pauls School (London) and a National League Division One rugby team Old Elthaminas (UK).