How to centralise your performance analysis in one place?
iSportsAnalysis recognise that there are many sports performance analysis systems being used to improve player and team performances. We also recognise these systems use various file formats to store the sports performance analysis information.
For example, Sports Code uses a standard XML file to store Codes and Labels tagged, or coded, in matches.
Nac sport have followed suit and have used exactly the same format to record tagged events in analysed matches. This means performance analysis created on Sports Code can be shared with Nac Sport, and visa versa.
What is great about the XML standard used by Sports Code and Nac Sport is has also been adopted by apps that run on smart phones and tablets; PocketCoder is an app that enables you to create Code windows and tag your matches while standing at the side of the pitch. The resulting XML analysis file can be uploaded to software like Sports Code, which can be used to generate the required reports.
However, what if you use Dartfish, or the Dartfish EasyTag app? Analysis information is recorded in CSV files which are a very different format to the XML used by the likes of Sports Code and Nac Sport.
There are many different sports performance analysis systems being used in the sporting world, many using variations of the above XML and CSV formats to store your coding, or tagging, information. If you are happy that your analysts are using the same systems the different file formats will not present any problems.
However, more and more analysts are relying on different software which does create an issue if you need to centralise your analysis to share with coaches and players.
Another problem that might well present itself is that your analysts may focus on different aspects of your team's performances. If you have an analysts who has used Dartfish to tag your matches and you want another analyst who uses Sports Code to add to the original analysis you are stuck, the two systems are not compatible.
The iSportsAnalysis Sports Performance Analysis service enables you to import match analysis from the different systems. You can centralise all your analysis into one place and share the results with your coaches and players. Analysis can be presented in Stats pages, the Matrix, the Event filter and Coaches corner.
Anyone who has seen team sports such as football on Saturday afternoon TV will recognise the Stats pages designed by iSportsAnalysis as they are very similar to the ones shown at half time etc.
They are the tables of analysis information showing the various metrics such as score, home and away possession etc.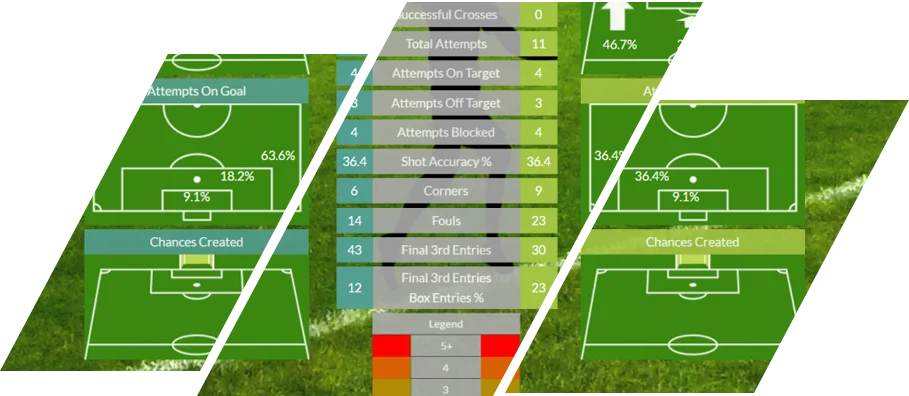 All the analysis information is shown in a grid; and example of this might include a column called Away Possession and a row called Away Knock-on. If we were to look at the point in the Matrix where Away Possession meets Away Knock-on, there might be a number representing these events that took place in your match.
If you were to click on that number the iSportsAnalysis player would open and play the relevant clips.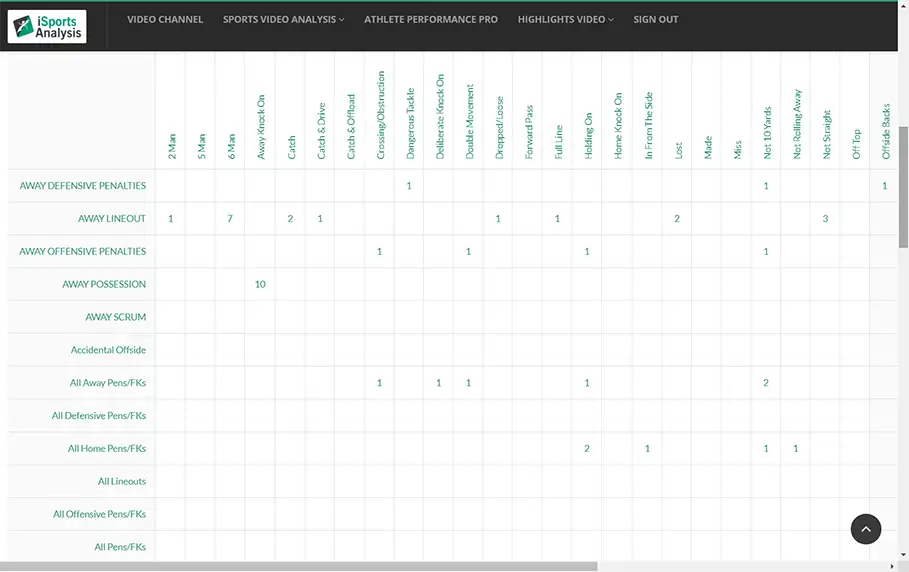 Improve your team's performance
Get insights, get winning
Sign up now and get started
If we consider all performance analysis is comprised of recording events that happen in a match, the Event filter enables you to create playlists of your selected events.
The playlist can be bookmarked and shared with coaches and players making this a fantastic tool to drill down into specific events which need to be reviewed.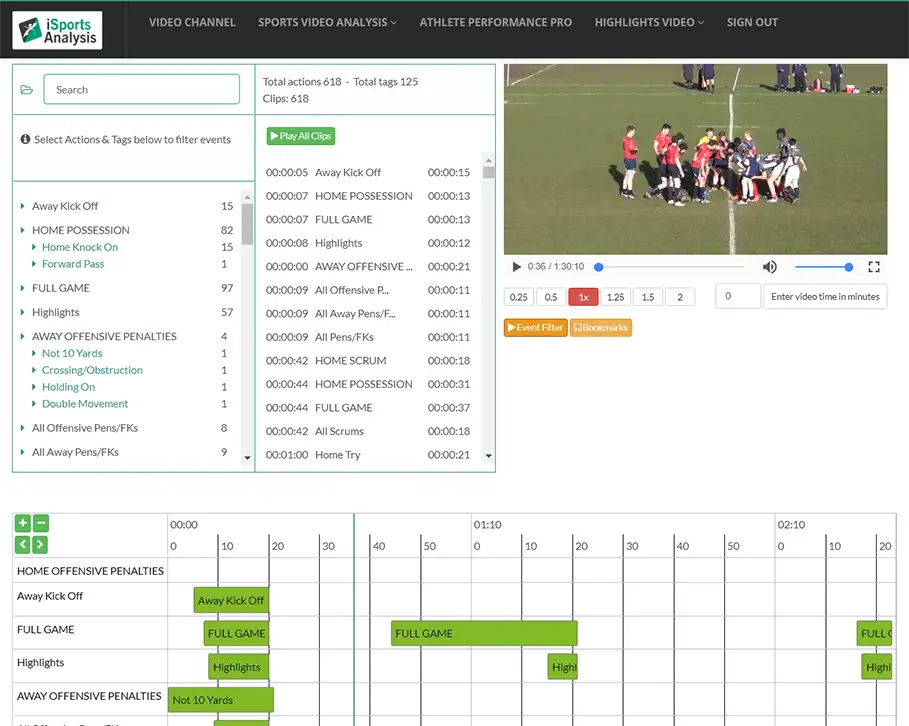 iSportsAnalysis have integrated the Event filter into our online messaging system, Coaches Corner. If you are unable to gather your team to review your matches why not do it online?
You have all the same functionality to create and bookmark playlists and now you can all engage, in real-time, from the comfort of your own locations.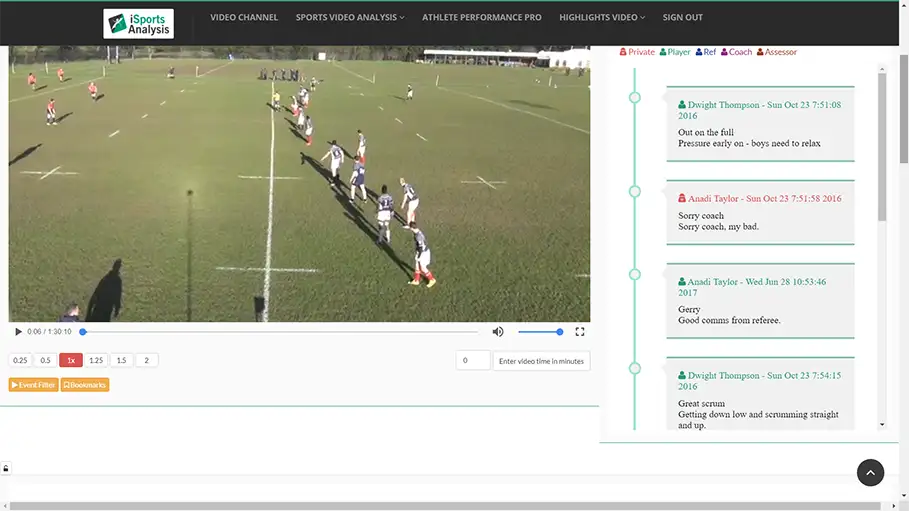 As you can see, regardless of the systems your analysts use to code or tag matches, all analysis can be effectively utilised from one, all encompassing platform – iSportsAnalysis.com.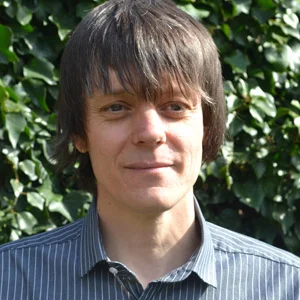 Anadi James Taylor
CEO - iSportsAnalysis Ltd
I am expert in helping sports clubs and universities with their Sports Video Analysis and their GPS Performance Analysis.
I developed iSportsAnalysis.com with top sports scientists, coaches and trainers to help maximise training gains and to optimise the performance of athletes and teams.
I have developed an online system that has helped over 120 universities, private schools and clubs to reach their true sporting potential; whether that has been from them using the online video streaming services, the online sports video analysis or the GPS performance analysis, the results speak for themselves!
We help you win matches!
You can find out more at iSportsAnalysis.com.